Product Information
Hardcover:
Volume I, 520 pages
Volume II, 564 pages
2 colour print: black and red with gold embossed Balacron imitation leather cover
Size: 21 cm x 29.7 cm
Year of Publication: 2000
JAMI' AL-TIRMIDHI IN TWO VOLUMES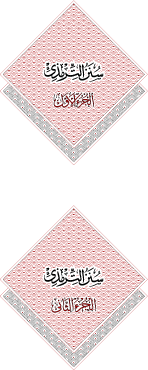 The extremely inadequate nature of existing editions makes this the only adequate version of Tirmidhi in existence. The scholars have completely revised the internal numeration system, dealing systematically with the non-hadith material which this book includes. The texts embedded in the following editions have been employed:
The edition by Ahmad Shakir and others. (Cairo, 1356/1937)

Aridat al-Ahwadhi, the commentary by Abu Bakr Ibn
al-Arabi. (Cairo, 1350/1931)

Tuhfat al-Ahwadhi, the commentary by al-Mubarakfuri. (Beirut, 1410/1990)

Manuscript No. 648 Hadith preserved at the Egyptian National Library, dated 726.