Product Information
Hardcover:
Volume I, 576 pages
Volume II, 680 pages
2 colour print: black and red with gold embossed Balacron imitation leather cover
Size: 21 cm x 29.7 cm
Year of Publication: 2000
MAKNAZ AL-MUSTARSHIDIN IN TWO VOLUMES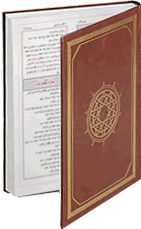 Two volumes of analytical indices to all the printed texts are supplied, entitled Maknaz al-Mustarshidin.
This takes the form of a subject index which lists, for each Hadith collection, each hadith by number, and then supplies references to all replicated or similar hadiths in the other collections, together with the relevant number in al-Mizzis Tuhfat al Ashraf. Many unusual words (gharib) are also defined.
The analytical index also contains a comprehensive list of chapter titles in each hadith collectionsand the relevant page numbers in the printed edition.